Community
Central Insurance and its employees are dedicated to giving back to the communities in which we live and work. Through many different programs, charities and volunteer opportunities, Central gives of its time and resources to uphold integrity, foster relationships, and maintain excellence in our community.
Central's Home Office and Central Regional Office hold their primary fundraising campaign to benefit the United Way once a year. This year employees donated a record setting amount of $81,436.08 which the Company matched for a total contribution of $162,872.16. Employee participation was 94.6%. Central Employees also participated in the United Way Day of Caring by completing a project at Wee Care Learning Center, donating food, and donating blood.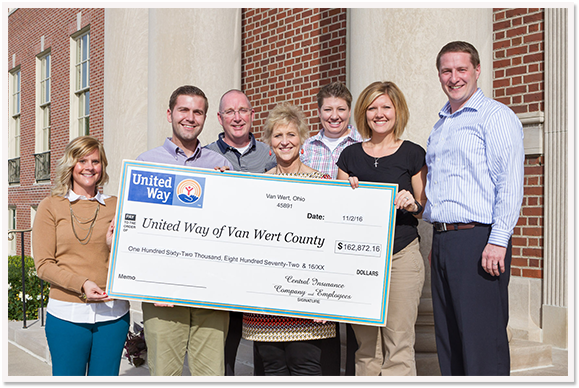 Pictured 1st row left to right, Central Campaign Coordinators Jessica Springer and Luke Swartz, United Way of Van Wert County Director Vicki Smith, United Way Board President Jessica Hardesty, and Central VP of Human Resources Ben Faurote. 2nd row Central employees and United Way Board members Scott Mull and Jessica Pannkuk.
We also provide support for Junior Achievement, the DARE program, Renaissance, and the Rhodes IT Challenge. The offices' Community Gifts project donates employee contributions and a Central matching donation to local needy children, food banks, and other local non-profit organizations each year. We also hold a Christmas canned food/paper drive and donate the items to local churches and organizations that assist the community.
Central is also a company partner of the InVEST program. InVEST is a unique program of the Independent Insurance Agents and Brokers of America (IIABA) that educates high school and community college students on insurance, financial services, and risk management, and encourages them to pursue careers in the insurance industry. It provides free resources to educators including curriculums, computer software, presentation kits and interactive games. Not only does Central support the program financially, we have coordinated with our local high school to offer the InVEST program to students. Central employees and our agency partners volunteer their time to teach these classes. Students who complete the course are then eligible for InVEST scholarships.
Our regional offices support local charities as well. Our Northeast Regional Office gives to the United Way, sponsors a toy drive for Toys for Tots, and contributes to agent charities and sponsorships. The Southeast Regional Office supports the United Way and North Fulton Community Charities, an organization which helps families in the Roswell/Alpharetta area with school supplies, food, clothing and financial assistance. The Southwest Regional Office contributes food and toys to Toys for Tots and the North Texas Food Bank. They support a local school supply drive and area women's shelters, and partner with local agencies to support a variety of charities such as the Boys & Girls' Club, Cause for the Cure, Irving Fire Department and the Ronald McDonald House.