myCentral®
Making it easy to protect what matters.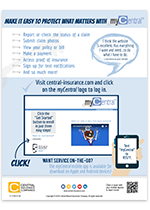 Unlock 24/7 access to your Central Insurance account with myCentral! This interactive website is the key to account self-service:
Report or check on the status of a claim.
Submit claim photos.
View your policy or bill.
Make a payment.
Access proof of insurance.
Sign up for text notifications.
And much more!
Click "Get Started" on the myCentral log in page to enroll in just three easy steps!
For those on the go, myCentral Mobile allows you access to the same essential myCentral functions right from your Apple or Android device. Text "myCentral" to 95577 to install the app on your mobile device or visit the iTunes or Google Play store to download the app for free.
E-policy
This system issues your new or renewal policy electronically and makes policy information available online.
E-billing
Receive and view your billing statement online and utilize any of the electronic payment options.
Enroll in both our E-billing and E-policy options and receive a $5 credit per policy!*
Electronic Funds Transfer (EFT)
Offered on all of Central's billing plans (Annual, Semi-annual, Quarterly, and Monthly) with payments automatically withdrawn from your checking or savings account.
Electronic Check
Process a one time payment or schedule a future check payment electronically, either online or over the phone.
Credit/Debit Card
Process a one time payment or schedule a future payment electronically, either online or via the phone using a Visa®, MasterCard®, American Express® or Discover® card.
Looking for an independent Central agent? Click here to locate one in your area.
*Mortgage billed, agency billed and TX and MA Workers' Compensation policies are not eligible.