Unlock 24/7 access to your Central Insurance account with the myCentral policyholder website. This online account management tool is easy to access and easy to use. What can you do with myCentral?
Report a claim

or check the status of a claim. Once a claim is submitted, you will have access to the name, e-mail, and phone number of the representative assigned to your claim.


View and print your

auto ID cards

.


Request a

policy change

.


Sign up for

text notifications

about your account.


Find

contact information

for your agent and Central in one convenient spot.
For those on the go, the myCentral Mobile App is available for Apple and Android devices. Download the app for free by visiting the iTunes store or Google Play.
Unlock the convenience and peace of mind myCentral offers. To sign up, click the myCentral logo on Central's website. From the log-in page, click "Get Started" to enroll in just three easy steps.
"This is the best website I have ever seen for entering a claim. Clear directions and fast response. Crisp, uncluttered graphics. Excellent job."
"Just want to tell you that your website is the easiest, clearest, most user friendly of any site that I've used. Thanks!"
"I think the web site is excellent. Has everything I want and need to do what I have to do."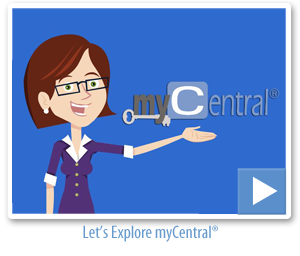 The driver's license. For teens it means freedom and excitement. For the family of a teen driver it means worry, and it's worry that's well-founded. Studies by the National Safety Council indicate 80 percent of all teen drivers will be in a police-reported collision during the first three years of driving. Even worse, the National Highway Transportation Safety Administration (NHTSA) refers to motor vehicle crashes as the leading cause of death for teenagers.
It is no secret that lack of experience and immaturity have a huge impact on the success of a young driver. So why not give the teen in your life the tools he or she needs to be a safe driver, rather than a statistic? The ADEPT Driver® teenSMART® Driver Safety Program has been proven to reduce the chance of being in a crash by up to 30 percent!
teenSMART is downloadable software you install on your home PC that uses realistic driving simulations, videos, in-car exercises, and other parent-teen activities. teenSMART identifies and addresses the six behavioral and social factors that cause more than 90 percent of all teen collisions.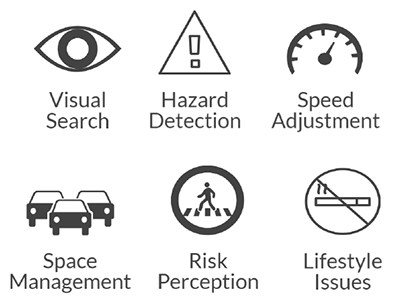 New drivers learn to anticipate dangerous situations, develop critical decision-making skills, become aware of their surroundings, and expect the unexpected. teenSMART drivers are safer, more skilled, involved in fewer collisions with fewer injuries, and file fewer insurance claims.
Not only does teenSMART help new drivers develop the skills they need to become better drivers, Central offers premium discounts for both participation in and completion of the program – up to 25 percent!
Contact your independent agent to learn more about the teenSMART program and Central's other discounts for teen drivers.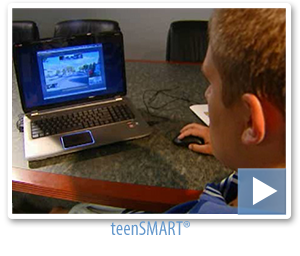 "My daughter Emma completed the teenSMART driving program in December of 2015. My insurance agent Michele Mooney (Purmort Brothers Insurance) brought this to my attention because the additional coursework would benefit Emma and completion of this program would offer a discount on my auto insurance. Emma found the course helpful because it offered a substantial online study experience. The material was presented in a manner that was easy to access and easy to complete. She completed the course within a two-week timeframe.
I was happy with the ease of ordering the materials as well as the quick delivery to get Emma started. The course was as easy as advertised and I recommend it to anyone with a young driver."
– Mark Verville, Central policyholder and
father of Emma (pictured below)
Anything that can go wrong, will go wrong.
This adage known as Murphy's Law explains why your air conditioning system always fails in the middle of a record-breaking heat wave, or your hot water heater stops working on a cold winter morning. While when and how Murphy's Law will occur may be out of your control, there is a measure of protection available for you and your household's essential equipment: Central's Equipment Breakdown Coverage.
This unique product extends coverage to your important home systems and personal property at your residence – including air conditioners and hot water heaters – due to a covered loss by a mechanical or electrical breakdown. You just pay the $500 deductible and Central pays the remainder of the repair or replacement expense!
Now think about all the other items in your home that are subject to mechanical or electrical failure…refrigerators, computers, washers and dryers. All of these investments are costly to purchase and just as costly to repair or replace. Individual warranty plans are available, but are unreasonably costly, confusing, and burdensome to manage. With Equipment Breakdown Coverage, there are no separate warranty programs or fees to manage. Best of all, you can have peace of mind knowing you're covered for the systems you depend on most.
For an annual premium of only $25 dollars, Equipment Breakdown provides:
""
$100,000 of coverage per occurrence.

""
$10,000 in coverage to pay extra expenses necessary to rush repair or replacement of your covered property when a covered loss occurs due to a mechanical or electrical breakdown.*


""$10,000 in Refrigerated Property coverage if your refrigerator or freezer has a covered mechanical or electrical breakdown resulting in spoilage of food.*


""$10,000 in Pollutant Clean Up and Removal coverage per occurrence for cleanup and removal of pollutants that may result due to a covered breakdown of equipment.*
*not available in North Carolina.
Equipment Breakdown Coverage also offers the Green Environmental, Safety and Efficiency condition which provides coverage for the added costs – up to 150 percent – to repair or replace your damaged covered property with equipment that is safer, more efficient, and better for the environment.
Break free of Murphy's Law…contact your independent agent about adding Equipment Breakdown Coverage to your Central homeowners policy.
Equipment Breakdown losses will not be used in rating or underwriting your Central policy. Losses paid under this coverage will not increase the cost of insuring your home with Central.
The Equipment Breakdown Coverages described above are in the most general terms and are subject to the actual policy conditions and exclusions. For actual coverage language, conditions or exclusions, please refer to the policy or contact your Central agent.